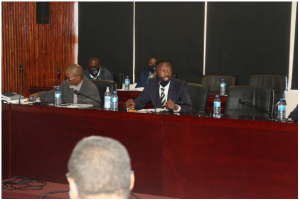 Hon Lukas Muha, MP and Chairperson of the National Council briefing the Standing Committee Session
Story by Pamela Mate
The National Council Standing Committees Planning Session which started on Thursday, 26 May ended today, Friday 27 May 2021 when Standing Committee Chairpersons presented their 2021/2022 budget and activity plan to the House.Yesterday's event started on a sombre note with the announcement of the passing of Hon. John Muchila Mukaya, Counsillor of Katima Mulilo Urban Constituency who passed away tragically Wednesday evening.
In his remarks, the Chairperson stressed the importance of the planning framework as it guides a more focused, coordinated and structured approach to the National Council's oversight function. In the larger five-year plan, the first year will focus more on capacity building of the Members. Year two to four will be dominated by oversight activities and follow up activities while in the last year, a bulk of the work will be wrapping up and preparing exit reports.
At yesterday's event, Members were briefed on the budget of the National Council and what each Committee would be allocated to execute their duties. Some MPs were unhappy with the allocation, citing that it would be difficult to meet the demands of their work in the regions on such a low budget. Nonetheless, they have pledged to do the best they can in their dual roles as regional councillors and Members of Parliament.
The Plenary concluded today with presentations from each respective Standing Committee Chairperson. Closing off the programme, the Vice Chairperson of the National Council and Coordinator of the Committee of the Whole Council who coordinates and oversees the work of all Standing Committees, Hon. Victoria Kauma thanked the MPs for their dedication and called for a strong and united National Council through hard work and service.