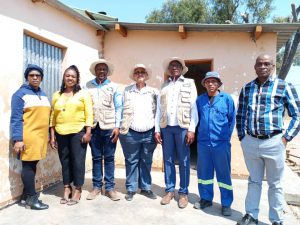 The Parliamentary Standing Committee on Education, Science, ICT and Youth Development is undertaking regional visits to selected schools in the Kunene, Omusati, Kavango West, Kavango East, Zambezi, Erongo, Otjozondjupa, Omaheke, //Kharas, Hardap and Khomas regions to assess the status of community hostels. The oversight activity, which commenced on the 29th of August will conclude on the 9th of September 2022. The objective of the oversight visit is to ascertain the situation of selected community hostels which are believed to in conditions that are not conducive for learners and are in dire need of food and basic supplies. The committee is engaging regional education management, school principals, school board members as well as the hostel committee to determine the challenges that exist in the management of community hostels.
Chief amongst the challenges identified are overcrowding, the outbreak of scabies, lack of food supply, lack of ablution facilities, poor hygiene and non-payment of the hostel development fund in marginalized communities. In addition, community hostels not yet subsidized by government are finding it difficult to upgrade their infrastructure in order to meet the criteria.
The oversight visits are a follow up from the March 2022 visits to the Oshana, Oshikoto, Ohangwena and one school in the Otjozondjupa region. In order to expedite the exercise as well as reduce expenditure, the current and final phase of the regional visits is divided in two groups. Group 1, which is covering Kunene, Omusati, Kavango East, Kavango West and Zambezi regions is headed by the Committee Chairperson, Hon. Olivia Hanghuwo, accompanied by Committee Members Hon. Deriou Andred Benson and Hon. Kosmas Kayayuka Katura. Group 2, headed by Committee Vice Chairperson, Hon. Bethuel Tjaveondja and accompanied by Hon. Jeremias Goeieman and Hon. Sakeus Nangula respectively are covering the remainder of the regions.