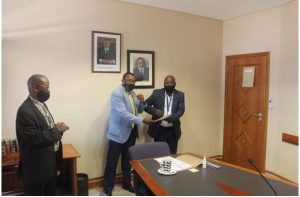 By: Pamela Mate
National Council (NC) staff, responsible for security and operations were awarded with certificates following a one-day training on security awareness in May this year.
At the award ceremony, Secretary to the NC, Advocate Tousy Namiseb noted that he acknowledged the success of the staff and thus deemed it necessary to celebrate such achievements in order for others in the institution to become aware and inspired to do more.
The Secretary used the opportunity to thank the staff dealing with security issues and highlighted the importance of the core values of the institution, namely Impartiality, Integrity, Loyalty, Professionalism and Teamwork. Namiseb underscored professionalism as the binding value especially in the critical service of security, further alluding to the effectiveness and proficiency that is embedded in professionalism. The Secretary underlined the following key words: safety, communication and thoroughness as guiding principles in the area of security that will help n producing an effective and efficient division.
The Secretary further stated that security systems at NC had significantly improved and major strides had been made since the Security and Operations Division became a fully functional component of the institution. These includes the scanning devices by the entrances of the NC buildings as well as the partitioning of entrances on the various floors. These, the Secretary said, has proven successful in securing staff and property.
Namiseb thanked the diligent staff for their professionalism in dealing with security issues and encouraged them to keep on delivering, learning and upgrading themselves.
Also speaking at the award ceremony, Deputy Secretary, Mr. Ephraim Jane echoed the sentiments of the Secretary, underscoring the importance of teamwork to ensure complete harmony between all functionaries responsible for security at Parliament. Jane further implored on the staff to uphold integrity and to always do what is right, without discriminating anyone irrespective of their gender, age or political party. In his concluding remarks, the Deputy Secretary asked for loyalty to the institution, and not individuals.
One of the certificate recipients, Mr. Peter Tjiramba gave a word of appreciation to the Secretariat heads, and expressed that he was grateful for the opportunity as it would open many doors for him. Mr. Protatius Nambudhi, who also underwent the training stated that he was appreciative of the guidance by the Secretary and his deputy and empahised the importance of teamwork, stating that "one is as good as your team, where they go, you follow".
The staff who attended the workshop are Ms Victoria Sheepo (Deputy Director; Security Operations), Mr George Musweu (Chief Security Operation Officer), Mr Evans Simasiku (Chief Sergeant-At-Arms), Mr. Peter Tjiramba (Sergeant-At-Arms) and Mr Protasius Nambudhi (Security Operation Officer).